Modern high quality meter seal. It has been the most popular seal for water meter sealing in Latvia for many years. Different types of personalization are possible (company logo, phone number, company name).
Unique security seal used to seal reusable security bags and wallets. When opening the bags and wallets, the seal is permanently damaged and cannot be reused.
Sequentially numbered plastic seals with the metal locking mechanism. Wire end length is available in 3 sizes: S, M, L with the diameter 2,3 mm. Personalization is possible. Wide application.
Transportation of money, securities, correspondence, containers, etc. Personalization is possible.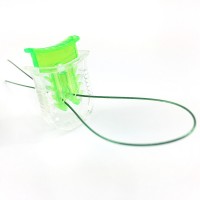 Due to the unique design and construction of the seal, the possibility of re-using the seal is excluded. Due to the small size and weight of the seal, it can also be used to seal small items.
Disposable seals for surgical instrument containers. The seals are suitable for Aesculap containers as well as medical containers from other manufacturers.
.
Plastic seals
Main advantages:
Plastic security seals are considered to be economy class seals because they are relatively cheaper than, for example, metal seals. However, using plastic seals, it is just as effective to control security and make sure that no unauthorized access, theft, etc., for example, of meters, cargo, fuel tanks, premises, etc. has occurred.
Plastic seals are designed to be easy to put on and lock, as well as to quickly detect if the seal is damaged, attempted to be removed or replaced.
In most cases, plastic seals can be easily removed without the use of additional tools.
Metal seals