Sealing wires are used together with security seals and serve as a security aid. The wires are offered both in rolls and cut. The standard wire length in the spool is 100 m.
Sealing pliers can be used to seal lead, aluminium and plastic seals. For additional security, it is possible to personalize the sealing matrices with the company logo or initials.
Matrices for sealing rods are available in different sizes depending on the application. The matrices are made of hardened steel and are designed to be pressed more than 20,000 times without signs of wear.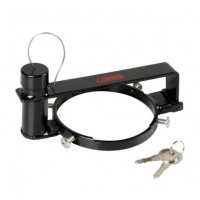 Secure protection for fuel tanks sealing. The mechanisms are mounted on the cover of the fuel tank by tightening it on each side with screws and finally sealing the mechanism with appropriate security seals.
The classic design of the container seal combines both locking and sealing functions in one application. Highest protection among seals available on the market. Fully comply with ISO 11712: 2013 including Clause 6, as well as CTPAT and AEO requirements.